Eugene, a furniture dealer from St. John's Newfoundland, decided to expand the line of furniture in his store, so he decided to go to Paris to see what he could find.
After arriving in Paris, he visited with some manufacturers and selected a line that he thought would sell well back home.
To celebrate the new acquisition, he decided to visit a small bistro and have a glass of wine.
As he sat enjoying his wine, he noticed that the small place was quite crowded, and that the other chair at his table was the only vacant seat in the house.
Before long, a very beautiful young Parisian girl came to his table; asked him something in French (which Eugene couldn't understand); so he motioned to the vacant chair and invited her to sit down.
He tried to speak to her in English, but she did not speak his language.
After a couple of minutes of trying to communicate with her, he took a napkin and drew a picture of a wine glass and showed it to her.
She nodded, so he ordered a glass of wine for her.
After sitting together at the table for a while, he took another napkin, and drew a picture of a plate with food on it, and she nodded.
They left the bistro and found a quiet cafe that featured a small group playing romantic music.
They ordered dinner, after which he took another napkin and drew a picture of a couple dancing.
She nodded, and they got up to dance.
They danced until the cafe closed and the band was packing up.
Back at their table, the young lady took a napkin and drew a picture of a four-poster bed.
To this day, Eugene has no idea how she figured out he was in the furniture business

retired2

Bonfire Tilter




Posts

: 5978


Join date

: 2012-02-24




GOLFERS HAVE TO LOVE THIS ONE



Four old timers were playing their weekly game of golf, one remarked how nice it would be to wake up on Christmas morning, roll out of bed and without an argument go directly to the golf course, meet his buddies and play a round.

His buddies all chimed in said, "Let's do it! We'll make it a priority; figure out a way and meet here early, Christmas morning."

Months later, that special morning arrives, and there they are on the golf course.
The first guy says, "Boy this game cost me a fortune!
I bought my wife a diamond ring that she can't take her eyes off it."

The second guy says, "I spent a ton too. My wife is at home planning the cruise I gave her.
She was up to her eyeballs in brochures."

The third guy says "Well my wife is at home admiring her new car, reading the manual."

They all turned to the last guy in the group who is staring at them like they have lost their minds.

"I can't believe you all went to such expense for this golf game. I slapped my wife on the butt and said,
'Well babe, Merry Christmas! It's a great morning . . . intercourse or golfcourse?'

She said, "Don't forget your sweater."

retired2

Bonfire Tilter




Posts

: 5978


Join date

: 2012-02-24




Little Boy at the Nude Beach.

A mother and father take their 6-year old son to a nude beach.

As the boy walks along the sand, he notices that many of the women have boobs bigger than his mother's, so he goes back to ask her why.

She tells her son, 'The bigger they are, the sillier the lady is.'

The boy, pleased with the answer, goes to play in the ocean but returns to tell his mother that many of the men have larger things than his dad does.

She replies, 'The bigger they are, the dumber the man is.'

Again satisfied with her answer, the boy goes back to the ocean to play.

Shortly thereafter, the boy returns and promptly tells his mother,

'Daddy is talking to the silliest lady on the beach, and the longer he talks, the dumber he gets.

retired2

Bonfire Tilter




Posts

: 5978


Join date

: 2012-02-24



I just got off the phone with a friend who lives in Scotland.

She said that since early this morning the snow is nearly waist high and is still falling. The temperature is dropping far below zero and the north wind is increasing to near gale force.



Her husband has done nothing but look through the kitchen window and just stare.

She says that if it gets much worse, she may have to let the drunken bastard in.

retired2

Bonfire Tilter




Posts

: 5978


Join date

: 2012-02-24



Monica Lewinsky Update





After a relaxing bath, Monica Lewinsky was looking at herself naked

in a mirror...remembering her time with Bill Clinton.



Her frustration over her inability to lose weight was depressing her.

In an act of desperation, she decided to call on God for help...



"God, if you take away my love handles, I'll devote my life to you," she prayed.



And just like that, her ears fell off!



Touching story, isn't it!

retired2

Bonfire Tilter




Posts

: 5978


Join date

: 2012-02-24



One day an Irishman goes into a pharmacy - reaches into his pocket and takes out a small Irish whiskey bottle and a teaspoon.

He pours from the bottle onto the teaspoon and offers it to the chemist.

"Could you taste this for me, please?"

The chemist takes the teaspoon, puts it in his mouth, swills the liquid around and swallows it.

"Does that taste sweet to you?" says Paddy.

"No, not at all," says the chemist.

"Oh that's a relief," says Paddy. "The doctor told me to come here and get my urine tested for sugar."

retired2

Bonfire Tilter




Posts

: 5978


Join date

: 2012-02-24



HERE IS YOUR CHUCKLE FOR THE DAY!!!
Husband Down in Aisle 5
A husband and wife are shopping in their local supermarket.
The husband picks up a case of Budweiser and puts it in their cart.
"What do you think you're doing?" asks the wife.
"They're on sale, only $10 for 24 cans" he replies.
"Put them back, we can't afford them" demands the wife, and they carry on shopping.
A few aisles farther on, the woman picks up a $20 jar of face cream and puts it in the basket.
"What do you think you're doing?" asks the husband.
"It's my face cream. It makes me look beautiful," replies the wife.
Her husband retorts: "So does 24 cans of Budweiser and it's half the price."
That's him in Aisle 5.

retired2

Bonfire Tilter




Posts

: 5978


Join date

: 2012-02-24



PLEASE BE ADVISED
IN RESPONSE TO ALL THE RECENT E-MAILS ABOUT MY DOG:
PLEASE BE ADVISED, I AM SICK AND TIRED OF ANSWERING QUESTIONS ABOUT MY DOG!
YES, HE MAULED SIX PEOPLE WEARING STEVEN HARPER T-SHIRTS, FOUR PEOPLE WEARING ROB FORD T-SHIRTS, NINE TEENAGERS WITH PANTS HANGING PAST THEIR CRACK, THREE FLAG BURNERS.
FOR THE LAST TIME... THE DOG IS NOT FOR SALE !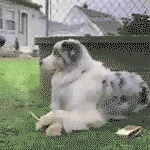 [][IMG]
https://2img.net/h/oi43.tinypic.com/332w0nm.jpg
AND NO, I DO NOT APPROVE OF HIS SMOKING, BUT HE SAYS IT HELPS GET THE "BAD TASTE" OUT OF HIS MOUTH!

retired2

Bonfire Tilter




Posts

: 5978


Join date

: 2012-02-24



---
Permissions in this forum:
You
cannot
reply to topics in this forum